Finder presents the Type 12.A4 Astro time switch with PWM / 0-10 V analogue output which expands the existing range of Finder devices designed to program and manage lighting in an optimal way based on the time-of-day and taking into account the seasonally variable level of natural lighting.
Finder 12 Series time switches are the ideal solution for programming both private and public lighting systems and are therefore well suited for apartments, houses, common areas of condominiums and offices (gardens, garages, driveways, and similar).
The Type 12.A4 Astro time switch is specifically designed  for applications where a particular level of lighting intensity is required, for particular time periods.
It will, for example, be useful for energy saving and reducing light pollution from advertising signs and shop windows for those times when the streets are deserted. Equally, it could be used to set night or twilight lighting levels to a minimal, but safe, level particularly at times of little use – such as out-of-hours industrial estates and car parks.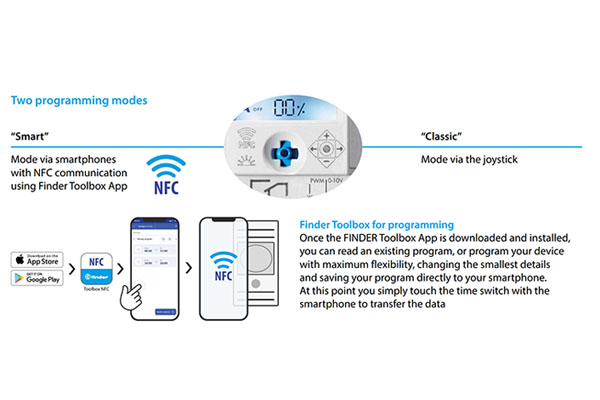 The 12.A4 offers two programming modes: "classic", using an integrated joystick and "smart", thanks to NFC technology and the Finder Toolbox NFC app. The latter makes it possible to read an existing program, modify the smallest details with maximum flexibility and to save programs directly to the smartphone.
The 12.A4 is compatible with dimmable electronic ballast/power supplies (accepting either 0-10 V or PWM inputs) as it has a single 0-10 V 10 mA max analogue output or, 30 V, 20 mA max PWM output signal.
The 12.A4 is also compatible with the Finder Type 15.11 Slave Dimmer with a 0-10 V input. With this Dimmer it is possible to control different types of lighting loads: halogen lamps, fluorescent lamps, dimmable electronic ballasts, CFL lamps, dimmable LED lamps.
With the Astro function, it is possible to program and control the lighting based on sunrise and sunset times after easily setting the geographical coordinates and time zones for most European countries via the Post Code or latitude and longitude.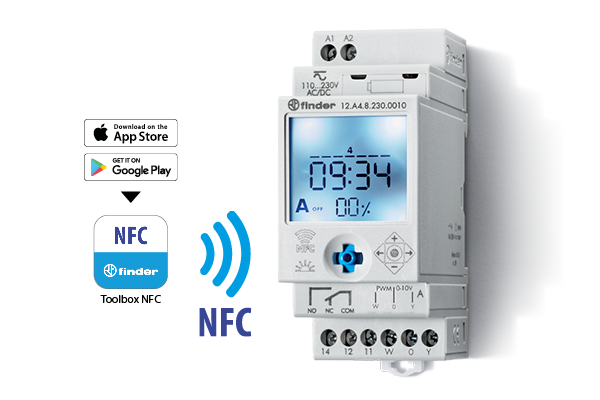 Major features and functions:
Analogue output level (0-99%) settable against Astro Sunset, Sunrise and Time-Clock based times
Location coordinates easily settable for most European countries through Post Codes
Offset function: allows programming of switching times offset from the Astro time (by up to 90 min, in 1 min steps)
Minimum time interval setting – 1 minute
Weekly program
Summer/Winter European, Australian, Brazilian time
Lock with a 4-digit PIN
Auxiliary contact programmed to disconnect the supply from the ballast when the analogueoutput falls below 10%
Integral LCD display and easily replaceable internal battery allows for viewing time switch status, and for configuration and programming without being connected to the mains supply.
The new 12.A4 Astro time switch, in common with all other related Finder products, is produced in Italy according to a quality process that guarantees maximum reliability and safety. It also offers extreme flexibility in use thanks to the twin programming modes as well as tangible energy savings immediately following installation.